Mission Statement:
"To encourage city-wide discussions and engagement with stories across all ages and interests."
From City Librarian Kelly Behle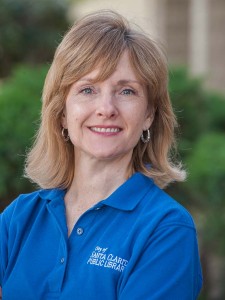 Santa Clarita Public Library's 3rd annual One Story One City book selection is a great choice because so many employees of the Jet Propulsion Laboratory in Pasadena reside in Santa Clarita, as do many other aerospace professionals.  Rise of the Rocket Girls by Nathalia Holt is about some of the women who worked at the lab as 'human computers' in the early days of JPL, and it tells the nonfiction story of "the women who propelled us, from missiles, to the moon to mars." Beyond the local appeal, our country's space program is also part of a national shared memory.
The book is appropriate for adults and high school students. Related programs will also engage the interests of children and tweens with rockets, STEM fun, and suggested booklists featuring space, science, and women's history titles. We hope you encourage children to explore these topics as you model reading enjoyment! A variety of adult programs will also be offered including a panel of current JPL employees and a special visit with the author.  The fun will be extended for those who participate in librarian-hosted tours in May at JPL.  Spaces on the tours will be drawn from entries that ask you to tell us what you liked about the book, or why you are looking forward to reading it.
The goal of One Story, One City is to get our community talking about a common story.  Join other curious Santa Claritans in reading Rise of the Rocket Girls!
---
SHARE THIS: